ENEOS 0W-20
$

10.88
On sale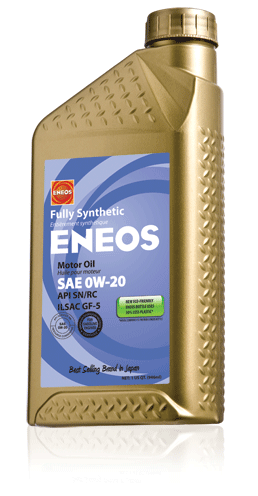 ENEOS 0W-20 GF- 5 OVERVIEW
The new ILSAC GF-5 specification is an improvement in engine oil performance compared to the current GF-4 specification. The new ENEOS GF-5 oil provides better fuel economy, increased emission system durability, enhanced piston cleanliness, reduced engine sludge, and improved turbocharger protection.
0W-20 Comparison with other leading brands of 0W-20: Comparison
SPECIAL FEATURES
Low Viscosity (0W-20)
ENEOS Motor Oil 0W20 is blended from high-performance hydrorefined base oils and an optimized additive blend, so it provides much better heat and oxidation stability than regular motor oils blended from solvent-refined base oils. Thanks to its innovative formulation, ENEOS Motor Oil 0W20 achieves a low viscosity of 0W-20, so it enables excellent fuel economy and environmental protection.

Ultralow Fuel Economy to Protect the Environment
In addition to its high-performance hydrorefined base oils and various additives, ENEOS Motor Oil 0W20 is also blended with organic molybdenum friction reducers. As a result, the oil minimizes friction and enables superb fuel economy.
Meets Latest API Standards
The high-performance ENEOS Motor Oil 0W20 has been certified as meeting the latest API SN standard established by the American Petroleum Institute.
APPLICATION
Scion FR-S
Subaru BRZ
Toyota GT86
Factory OEM 0W-20 oils are recommended.